My online diary. Yes, you can live vicariously through me.
---
This page is constantly under construction.
I am an amateur radio operator and my callsign is: KC4URW. So far, I have worked 88 countries. I was born and raised in Philadelphia, PA. I go back every chance I get for the three most important staples oflife: Philly Cheese Steaks, TastyKakes, and Philly soft pretzels.
---
Here are some links you hams might find of interest.
The QRZ online callsign lookup.
NASA on the web.
KA9FOX the best contest site I've found.
---
I have been to Walt Disney World 30 times. My most recent trip was September 2016.
I have been to see two space shuttle launches. One during the day, andone at night. I have a great video of that night launch.
Click here for one of the funniest wav files I've ever heard.
---
1998
I had a ticket to a hockey game where I got to see the Philadelphia Flyers play theCarolina Hurricanes. The Flyers won 3 - 1.
I had a ticket to the Late Show with David Letterman. I waited years to see Letterman and on December 30 I got my chance!
I also had a ticket to see the Philadephia Eagles play the New York Giants on December 27. The Eagles lost 20 - 10.
---
1999
I saw KISS on January 2, 1999. What a way to ring in the new year.(literally as well as figuratively)
I went to see WCW Monday Nitro on January 11. Seeing wrestling in person, especially Nitro, is wild!
I got to see the Flyers play the Nashville Predators onApril1.
I vacationed in Las Vegas from September 12 thru 19. I got a great price via priceline.
Most travel agents I tried wanted $1k or more for this trip. Priceline got me airfare for $200 and a hotel for $50/night. Not bad.
I stayed at the Days Inn Downtown off Freemont Street. I saw Siegfred and Roy, Comedy Max, Dennis Miller, and Steve Wyrick.
I also went to Hoover Dam and took the Hard Hat tour. It was $25, but well worth the money. I even took a trip to Laughlin, NV and gambled there.
---
Y2K
Even more news in the life of Bob. I am starting 2k off right!
I went to see the Flyers play the Atlanta Thrashers, in Atlanta, on April 4. What an ediface. The folks that designed the Phillips arena should be proud. The Flyers defeated the Thrashers 5 - 3.
And yes, in case you're wondering, I did, indeed, have tickets to see KISS in concert here in Knoxville on April 30. This was, I thought, my last KISS concert ever.
On May 28, I went to my second NASCAR race in Charlotte, NC.
On September 11, I left on a four day cruise to the Bahamas. I sailed on Royal Caribbean Cruise Line. I left from Miami and got to see Nassau, Cococay and Key West. I had never been to any of these places, so I really looked forward to this trip. For a review of this cruise, go here.
I traveled to Nashville on December 12 to see the Flyers play the Predators again. This game ended in a 2 - 2 tie.
Y2K ended on a sad note with the passing of my mother on Dec. 28.
---
Y2K+1
A new year and more excitement in the life of Bob.
On February 18, I traveled to Hotlanta for my very first KISS Konvention. I got to see Love Gun a KISS tribute band and the Demon from WCW.
On March 12, I got to see WCW Monday Nitro and TBS Thunder taped at the Civic Coliseum. As you well know, this was one of the last broadcasts of WCW on TNT and TBS.
On March 31, I went to Nashville to see the Predators play the Minnesota Wild. The Predators won 4 - 1.
In September, I went to Disney again. I stayed at the All Star Sports Resort from Sept. 9 - 15. I headed over to Universal Studios also. For a review of this trip, go here.
On October 20, I got to see James Brown at Sam's Club in Tunica, Mississippi. I've always wanted to see James. He did a 2.5 hour concert with no opener. What a great show. See, and you folks thought all I listened to was KISS :).
On December 23rd I went to see the Atlanta Falcons play the Buffalo Bills. The Falcons won with a field goal with three seconds left. Final score: 33 - 30.
---
2002
Another year starts. This one's going to be good.
The weekend of February 18. I went back to Tunica for some gambling pleasure.
On February 28th I got to see David Copperfield. This was a very good show.
On Friday April 19, I got to see Gallagher. He really puts on a fun and messy show and I have the shirt to prove it.
On Memorial Day weekend, I went back to Tunica for more gambling.
The weekend of July 26th <my birthday> I went to see the Braves play the Phillies.
On Saturday, the Phillies lost 5 - 3. On Sunday the Phillies won 7 - 1. I also went to Six Flags Whitewater and Six Flags.
From Sept. 8 - 14 I went to Vegas. I got a room at the Westward Ho, a rental car and rountrip airfare from Nashville for $598. I saw the Blue Man Group, and George Carlin. I also got to play some golf. For a review of this trip, go here.
In October, I went to printer repair training in Mt. Laurel, NJ. Now, here's an interesting story. I stayed with my sister (she lives in Lansdale, PA), went to see TWO Flyers games, went to Pat's steaks and bought a MESS of tastykakes, liverwurst and scrapple. I even went to Atlantic City for some more gambling.
On December 9th, I went to WWE Monday Night Raw. This was live from Knoxville!
And I bought myself an early Christmas Present. On Feb 16, I will be going to the Daytona 500. Look for more info on this trip soon.
---
2003
Ah, yes, just what everyone needs: More info on the life of Bob.
On January 20, I went to Atlanta to be in the audience of Talk Back Live.
On February 14 (Valentine's day) I went to the Daytona 500 for the first time and WDW again!
I visited the Animal Kingdom (ate breakfast at Donald's Breakfastaurs) and then spent the rest of the day at EPCOT.
I had a sign that says, "Finally Bob's on Fox" that I am brought to the race, but alas I didn't get on TV.
On March 8, I had front row tickets to the Ringling Bros. & Barnum and Bailey Circus.
On March 20, I had a second row seat for Gallagher. Yes, I plan on getting messy again.
On March 25, I had a ticket to see the Flyers play the Predators in Nashville. This game ended in a 1 - 1 tie.
On April 18 thru the 20th, I went to Atlanta again to see the Phillies play the Braves. The Phillies lost two of the three games. I did get a GREAT hotel rate through hotwire. $29 a night at a Homestead Suite near Perimeter mall.
I went to Philly again over the July 4th holiday. Yes, I went to Atlantic City. No, I didn't win, this time.
I traveled to Cincinnati over the Labor day weekend. I went to the Argosy Casino and WON $300 at craps (woo hoo!), Paramount Kings Island, and the Zoo.
I attended two (yes, I said TWO) KISS concerts in eight days recently. I went to Atlanta on Sept 14th then Nashvilleon the 22nd. On December 10, I went to my third (yes, I said THIRD!) KISS concert. This one was in Knoxville. Once again KISS made my night.
On December 8 I started a new job. I'm still doing the same thing I was, but with a new company. This one's going to send me to Colorado to get trained to fix Sun Solaris machines. Who said my life's boring?
Speaking of Colorado: I went to Colorado Springs from Dec 28 - Jan 2nd.
---
2004
Well, the year started out with a gambling junket to Cripple Creek, CO on Jan 1. This is a very nice town that has great casinos. I won again, hitting a flush, straight and three of a kind on Bronco Billy's three card poker table. I even played a little Texas Hold'em. Won there too. What a way to start the year.
On Jan 26th I went to Broomfield, CO. Broomfield is north of Denver. On Friday January 30, the class let out early enough for me to do a little site seeing. I went to Golden, which is the headquarters of Coors Beer. They have a very nice tour of the plant (FREE BEER included). I bought a coffee cup and a Beer mug. I also went to Coors Field where the Rockies play. I was too late for the tour there. After these visits, I traveled to Black Hawk which, in case you're wondering, is another city with gambling (I know, imagine that). I won a whole $5 at Fitzgeralds and, the people there are just plain RUDE. Anyhow after another week in Colorado, I headed home on January 31st and somehow US Air lost my bag between Charlotte and Knoxville. I did get it back Sunday.
On President's day weekend, I went to Atlanta for a KISS Konvention. There were several tribute bands and I had a great time.
From July 2nd thru the 5th, I went back to Philly! More food, fireworks, family and fun. I went to the new Borgata Casino and played Texas Hold'em. Winning (WOO HOO!) almost $80. Left there and went to Harrah's and played craps winning again (WOO HOO *2). After all was said and done after starting with $100 I ended up with $220. A good day to say the least.
On January 16, I went to Nashville to see Michael Winslow. He's the guy from the Police Academy movies that does all the sound effects. It was a very funny show.
From Sept 11 thru 18, I vacationed at Myrtle Beach, SC. If you remember, I was supposed to go last year. I didn't get to go due to my job situation. I stayed at the Holiday South Motel and played two rounds of golf.
I also went on a gambling cruise aboard the Southern Elegance. Started with $60 and ended up with $236 WOO HOO! I also frequented a bar at Broadway at the Beach called "Crocodile Rocks, Dueling Pianos." I went there four out of the seven nights. Much fun was had.
---
I know what you're thinking. What happened? The diary disappeared. Due to technical difficulties, I have been unable to keep this up. So, without further ado, here's a summary of what I did between 2005 and 2011. In November 2009 I went to Iraq and was stationed at Tallil Air Force Base COB Adder. I stayed through August 2010. Since I was unemployed, when I returned home I moved to upstate NY.
There were several trips to Walt Disney World, more KISS concerts before I moved. I'm now located in Schenectady.
---
2011
In 2011 I went to Walt Disney World again this time staying at Pop Century Resort. An awesome place to stay.
I started a job at KAPL. That stands for Knolls Atomic Power Laboratory. Yes, I did more computer and printer roll outs and repair.
So, you'll never guess what else I did in 2011. Ready? Yes, I attended yet another KISS concert. This time at Turning Stone Casino. Two and a half hours of music. Another great concert put on by the Hottest Band in the World.
---
2012
In June, I went to California and visited every major league ballpark. Another quest of mine is trying to get to every park.
---
2013
And in 2013, I had the best experience. Second row at, yet another, KISS concert. The Monster Tour! And, it was a Monster alright. Another killer koncert <see what I did there?>
---
2014
In 2014, over Memorial Day weekend, I went to Baltimore to see an Orioles game. I'm now one park from being half way on my trek.
In September, I returned to Las Vegas, NV. I stayed at the Main Street Casino. I got a rental car from Dollar and had a great time. I even visited the red rock valley. I got to see Seigfried and Roy's house, played some golf and I highly recommend Main Street as a place to stay.
---
2015
So, it's another year and, GASP! I bought a house. I could go into a huge rant on how I was treated by Key Bank, but to avoid the inevitable law suit, I'll just say this: I would never use them for a home loan.
In June, I continued my baseball trek by visiting Chicago. I saw the Cubs, White Sox and Milwaukee Brewers.
In November, I visited my sister in PA and went to another black friday Flyers game. The Flyers beat the Nashville Predators.
Over Christmas while visiting my sister, I went to the Sugar House casino and their new poker room. It's nice and I entered the $40 tournament along with 19 other people and ended up sixth.
---
2016
On September 4 I flew to Miami Florida to continue my baseball trek. Leaving from Newark I got a great video of New York City and even the Statue of Liberty. Try this link First class to Miami.
I then flew from Miami to Tampa, then drove to my favorite place on the planet Walt Disney World for another week at Pop Century. This was my 30th trip to Walt's world. To say I had another great time is an understatement.
---
2017
So the last week of July and the first week of August, I traveled to four more ballparks. I drove from Schenectady to Toronto, Ontario then to Detroit, Michigan. Then I flew to DFW where I saw the Rangers play. While in Dallas, I visited my brother and his family in Athens. After a four day stay, I flew to Houston to see the Astros play. While in Houston, I visited the NASA Space Center. Flying home from Houston was an adventure all on it's own. A storm rolled through causing a ground stoppage which delayed flights. I was supposed to go through Hotlanta however, I ended up going through Minneapolis then to Albany. To say it was an interesting flight and connection experience is an understatement. After a week and a half away from home I made it back safe and everything I planned went off without any issues. Amazing!
---
2018
I went to Kansas City, MO on May 15 for more baseball. I also went to St. Louis, MO. Traveling via Amtrak I rode the Missouri River runner between KC and STL. While in St. Louis, I saw the Arch and the Anheuser-Busch brewery. The bonus of this trip was the Cardinals played the Phillies.
---
2019
In 2019, I had several interesting events. The most important of these was I turned 60! To celebrate, I made another trip in November to Walt Disney World. I stayed at Pop Century again.This time I used
Mickey Travels
. Lisa George was extremely helpful helping me with all my questions and getting all of the fast passes I requested. In August, I made one of my all time dreams come true. I met KISS! They were playing SPAC and as another gift to myself, I bought the "meet and great" package. Here's the picture to prove it.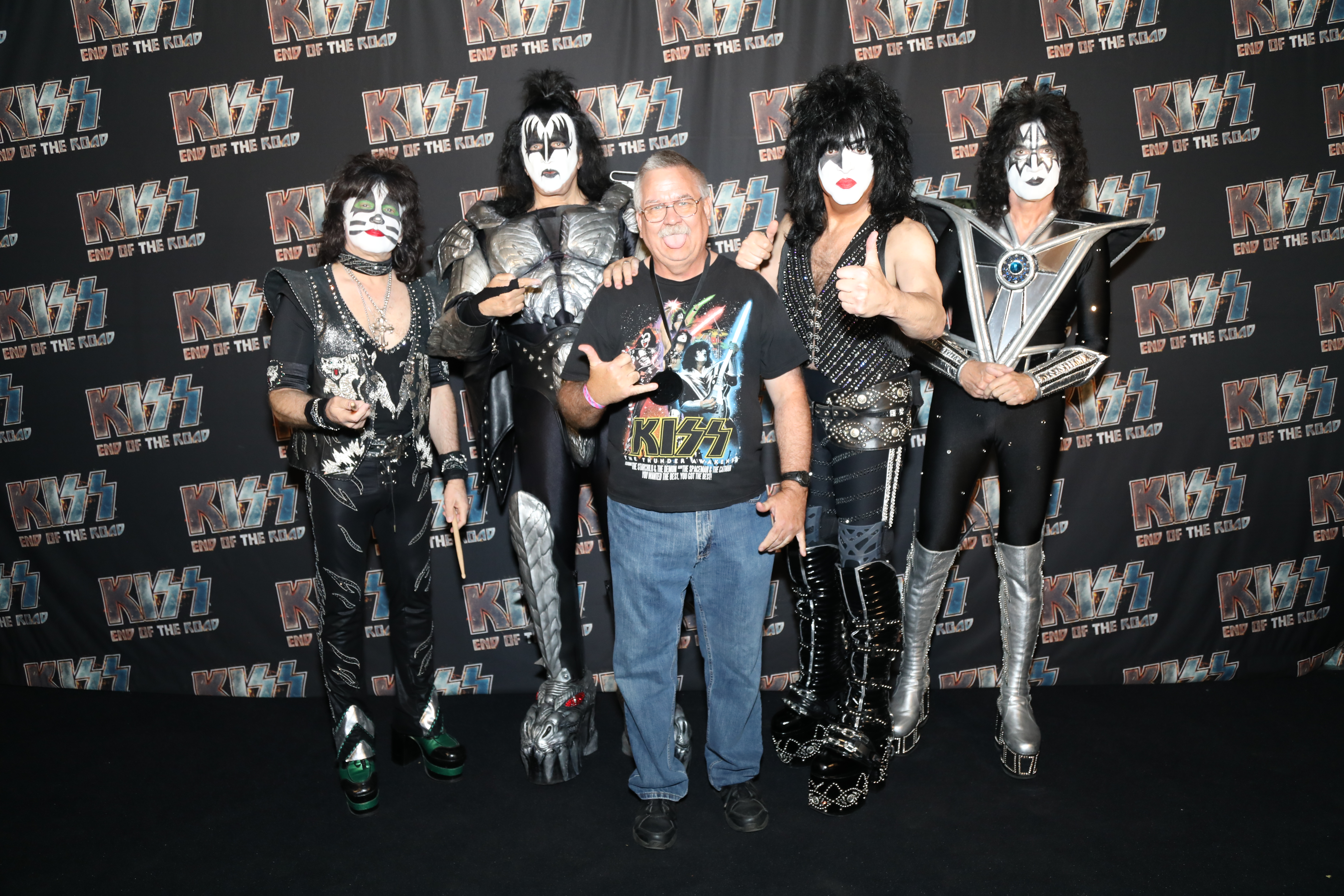 ---
2020
In 2020 to celebrate my birthday I again went to Atlantic City. This time I stayed at Ceasar's in room 572. Somehow the video I took of the room disappeared. I had planned on traveling to Colorado over Memorial Day weekend however, this supposed pandemic cancelled my trip. The only other trip I have planned this year is to visit my sister over Thanksgiving and Christmas. Hopefuly in 2021 I can resume my baseball trek.
---
Return to Bob's Page O' Stuff
---
Last Updated September 7, 2020 by Bob Werner